LAS VEGAS, Jan. 8, 2018 /PRNewswire/ -- FIFISH has been honored with CES 2018 Innovation Award and it is the second time to win the prize. As FIFISH flagship product,FIFISH P3 is an amazing underwater drone aiming at underwater exploration, photography and video shooting, which has achieved a professional level.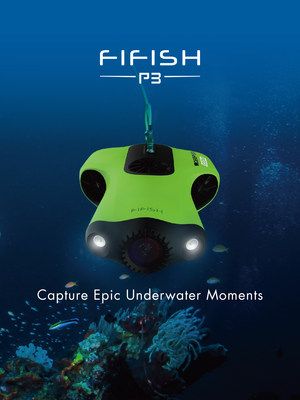 FIFISH P3
FIFISH P3 represents a new standard in underwater drone exploration and cooperated with a wealth of industries from underwater shooting to underwater inspection, research & rescue, even archeology, which has tested FIFISH P3's extraordinary performance and got widely recognition.
With unremitting efforts to pursue HD footage, FIFISH has gained breakthrough progress on camera system. Equipped with Ambarella chipset, 1-Inch SONY CMOS Sensor and 162 FOV ultra-wide angle lens, FIFISH P3 could capture 4K HD footage & 20-Megapixel photos in underwater environment.
In addition, 4000 Lumens LED lights with 8 levels adjustable brightness ensure more detailed and higher performance in dark environments. FIFISH P3 has overcome technical barriers to be more professional and reliable to deliver true-color imaging even in adverse ocean conditions.
Designed by a top team of experts in computational fluid dynamics, FIFISH P3 has a 3 thruster power system that can achieve perfect underwater suspension, multiple speeds and a working depth of up to 100 meters. A healthy 2-hour battery life makes dives longer for more video capture time. FIFISH P3 is perfect for divers, professional underwater photographers, and skilled hobbyists.
"As drone technology has improved along with better and smaller 4K sport camera systems, we saw that there simply wasn't a quality option for remote underwater shooting. As divers and video enthusiasts, we knew we could build a better system, a totally revolutionary platform with performance that would be suitable for consumers as well as professionals. The result is FIFISH P3, the perfect vehicle to capture epic underwater moments."  Belinda, Zhang CEO of FIFISH said.
FIFISH will be displayed at CES 2018, which runs January 9-12, 2018, in Las Vegas, Nevada and its flagship product FIFISH P3 will be launched on Indiegogo on 16th, January, 2018.
To learn more about the FIFISH P3 please visit:
https://www.qysea.com/products/fifish-p3/
, or 
Buy Underwater Drone
directly.
About FIFISH
FIFISH is a world-leading
underwater drone brand
of QYSEA Technology Co., LTD. It has been dedicated to provide truly professional underwater drone for shooting enthusiast & underwater sports manics to explore the ocean.
For further cooperation, please contact +86-755-22662313, partner@qysea.com or sales@qysea.com.
Original Report:
https://finance.yahoo.com/news/fifish-honored-ces-2018-innovation-132900913.html